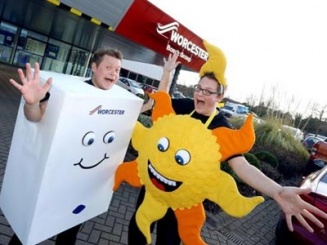 Bobby the Boiler and Solar Sam take to the stage at a local school
Published: 04-02-2015
Play commissioned with Worcester Live to raise awareness of energy usage in schools throughout the region
Over 50 schools will be visited during the tour
The play is targeted at 7-11 year olds and features guest appearances from our loveable mascots
To encourage children across the region to think about the environment we have commissioned a play with Worcester Live to raise awareness of energy usage through a creative play.
The play is targeted at 7-11 year olds and will tackle the subject of energy efficiency in an appealing and humorous manner, with appearances from Bobby the Boiler and Solar Sam.
Children from Oasis Academy Warndon were the first to enjoy the play and 50 more schools in Worcestershire will be visited by the energy efficient characters.
The play was written by Chris Jaeger from Worcester Live and the lead roles are played by two renowned actors from Worcester's local theatre. The partnership was developed as part of our ongoing commitment to the local community.
We are also encouraging the children in the region to take part in their national Environment 2020 art competition where they can show their ideas of what an energy efficient world looks like.
For more information on our E2020 competition click here
---
More News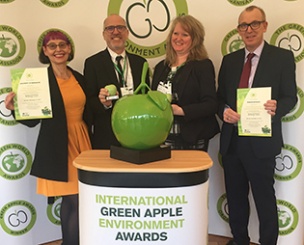 We were delighted to get involved with The University of Worcester's Energize Worcester campaign; a long-term research project that looked to understand students' attitudes towards energy management.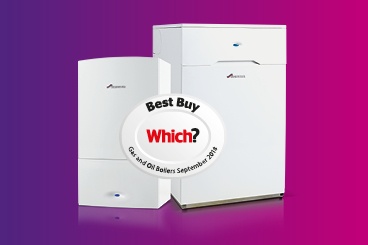 Making it nine years at the top we have achieved the highest brand score in the 2018 Which? Boiler Brands report, and secured Best Buy status across our gas and oil-fired boilers.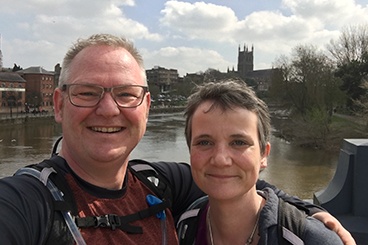 Walking two marathons back to back would be enough for most people, but for Marcel and Melanie Torrent, who both work here at Worcester Bosch, a further challenge was needed all in the name of fundraising – now they are planning to walk a double marathon in the Sahara Desert.