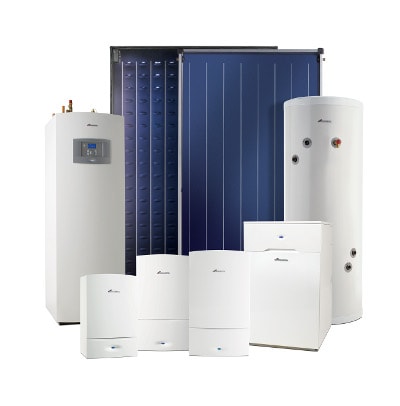 Your heating and hot water in safe hands
Making the decision on what type of product will most effectively suit your home and your lifestyle can be confusing.
A new heating system will always vastly improve efficiency but it can be a sizeable investment, so it's important to choose wisely. Much like buying any other large appliance, it makes sense to look beyond the purchase price, and to consider the lifetime costs of the boiler.
At Worcester we have been manufacturing products to the highest standards of quality and reliability for over 50 years. From our Greenstar gas and oil boilers and Greenstore hot water cylinders to our renewable technology options including our Greenstore ground source heat pumps, Greenskies solar thermal panels, and Greensource air to air heat pumps, you can be sure to receive both high performance as well as choice. And where an additional efficiency boost is needed, we offer a wide range of control options, from the simplest of mechanical timers up to the latest internet connected smart controller – the Wave.
You can take a closer look at the options below, however as every installation is different we always recommend that you contact a qualified installer to advise you further.
Worcester's Greenstar boilers all offer high levels of performance as well as operating efficiency and are available in a range of outputs and fuel types.
Worcester's rapid re-heat high efficiency cylinders can help you reduce your energy costs and lower carbon emissions.
Solar water heating systems could be an ideal addition to your home if you have a requirement for stored hot water.
Generate your own renewable energy from the ground or air and convert into heat and hot water with our heat pump range.