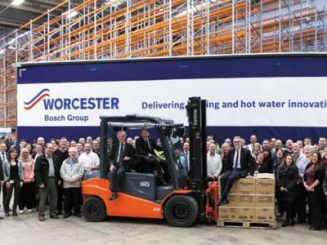 New Bosch Distribution Centre opens its doors
Published: 18-03-2015
Move to the new £9m Bosch Distribution Centre now complete
Robin Walker, MP for Worcester, was on hand to officially mark the opening
Increasing efficiency, the new facility can despatch up to 10,000 items daily
The 13th March saw the opening of our brand new £9m Bosch Distribution Centre, located in Warndon, Worcestershire, where we have combined our distribution facilities in to one highly-efficient location.
Local MP, Robin Walker, was on hand to officially cut the ribbon to open the building, which now provides additional storage space for our finished boilers, heat pumps, cylinders, commercial products and accessories. The new location is also home to our spares, pre-pack, internal sales teams and the logistics planning departments.
Attending the opening our Managing Director, Carl Arntzen, said: "We are thrilled to be officially unveiling our purpose built Bosch Distribution Centre.
This new building adds to the programme of improvements we have made at our head office and factory in Worcester and ensures our business can continue to expand whilst still producing and distributing the quality and innovative products for which Worcester is known."
Robin Walker, MP for Worcester, added: "This opening marks a big investment into the area as a whole and I am looking forward to seeing this new facility further develop and strengthen the company's position as leader in the heating industry."
---
More News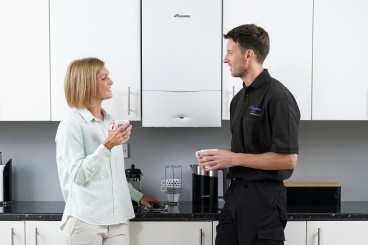 Until the 30th September 2018 homeowners across the UK and Ireland will be able to benefit from the Worcester Bosch guarantee promotion.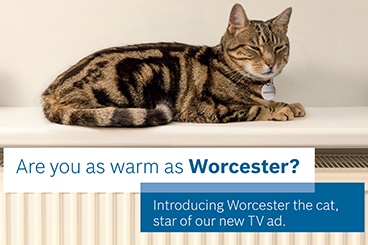 The cat's out the bag! Learn more about our advertising campaign, which features Worcester the cat.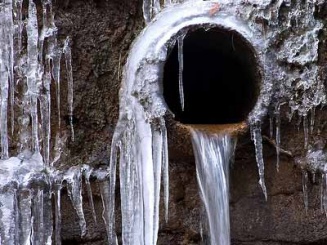 The UK is currently experiencing spells of extremely cold weather. Find out how to unfreeze the boiler condensate pipe.